WHO nevydáva príkazy, zákazy, ako sa to prezentuje po celom
FB, ale iba doporučenia a atď, a vôbec nemá právne oprávnenie rozhodovať. V liste je to aj uvedené, že o všetkom rozhoduje práve EMA s Európskym Parlamentom, radou. Tieto veci, ktoré sa dejú po celej Európe už vyše roka sú totiž v skutočnosti plánom EÚ. V tom EÚ Parlamente sedia aj takzvaní národovci, ktorí vôbec neinformujú o takých veciach, ktoré sú veľmi dôležité nielen pre život!!
Veríme tomu, že nikto z Vás o tomto vôbec nevie.
Teraz dávame na známosť čo sa v skutočnosti udialo v tom EÚ Parlamente a naši europoslanci ani slovo o tom. Ako je to možné, že ani jeden z nich neinformoval občanov SR!!!!!
Ako je možné, že pronárodní europoslanci ani sa nevyjadrili písomne tejto výzve lekárom!? Ako je možné, že ani jeden politik neinformuje o týchto záležitostiach? Veď politické strany majú zastúpenia v europarlamente! Každý jeden europoslanec podáva všetky informácie svojej strane a to dokonca aj novovzniknuté strany a hnutia.....a následne to majú posunúť verejnosti! No lenže poslanci v skutočnosti idú s týmto politickým kovidom s celou eú.
A teraz, že čo sa vlastne deje!
Dávame na verejnosť kompletný preklad Výzvy od Lekárov pre Etiku ohľadom Covidu a Solari.com....dôkladne si to prečítajte. Pred čítaním a po prečítaní odporúčame dať si niečo na upokojenie.....
Lekári pre Etiku Covid a Solari.com
Lekári pre Etiku v Covide poskytli členom Európskeho parlamentu oznámenia o zodpovednosti a radia im, že môžu byť osobne zodpovední za škodu a smrť spôsobenú zavedením digitálneho zeleného certifikátu (Vaccine Passport), o ktorom sa hlasovalo v Európskom Parlamente 28. apríla 2021.
Ak ste občanom Európskej únie, venujte, prosím, čas medzi dneškom a 28. aprílom 2021, aby ste nimi vyjadrili svoj hlas! Ak ste občanom krajiny mimo Európskej únie, inšpirujte sa odvahou a tvrdou prácou Lekárov pre etiku Covid. Venujte prosím teraz čas spolupráci so svojimi vládami a bankami a spoločnosťami, v ktorých vy a vaše dôchodky vlastníte podiely alebo ktoré často navštevujete ako vkladateľ alebo zákazník, aby ste zabránili prijatiu tohto úsilia o ukončenie zdravia a osobnej ľudskej slobody.
OZNÁMENIE O ZODPOVEDNOSTI ("NOL")
20 apríla 2021
Toto oznámenie o zodpovednosti bolo VÁM Doručené osobne ( všetkým poslancom europarlamentu ). Môžete niesť osobnú zodpovednosť za škodu a smrť spôsobenú vykonaním návrhu označeného ako NARIADENIE EURÓPSKEHO PARLAMENTU A RADY o rámci pre vydávanie, overovanie a akceptovanie interoperabilných osvedčení o očkovaní, testovaní a zotavení s cieľom uľahčiť voľný pohyb počas pandémie COVID-19 (Digitálne zelené osvedčenie), Brusel, 17.3.2021, KOM (2021) 130 v konečnom znení 2021. V skratke – Zelený digitálny certifikát.
Ako príloha a ako neoddeliteľná súčasť tohto oznámenia o zodpovednosti sú pripojené dokumenty:
Naliehavý otvorený list lekárov a vedcov Európskej agentúre pre lieky týkajúci sa bezpečnosti vakcín COVID-19;

Odpoveď Európskej agentúry pre lieky adresovaná lekárom pre etiku v coovide;

Lekári a vedci obviňujú lekárskeho regulátora z bagatelizácie nebezpečenstva vakcíny COVID-19;

Vyvracací list od Európskej agentúry pre lieky od lekárov pre etiku v Covid;

Lekári pre signatárov etiky Covid.
Ďalej môžete niesť osobnú zodpovednosť za podporu ZLOČINOV PROTI ĽUDSTVU, ktoré sú definované ako činy, ktoré sú úmyselne spáchané ako súčasť rozšírenej alebo systematickej politiky zameranej proti civilnému obyvateľstvu, spáchanej na podporu štátnej politiky.
Výzva od lekárov pre europoslancov:
Odpovedzte na toto OZNÁMENIE O ZODPOVEDNOSTI do 14 dní od DÁTUMU DORUČENIA:
Samozrejme, že pronárodní europoslanci o tom mlčia a ani neráčili sa k tomu vyjadriť. Čo znamená iba jedno - podporujú to.
LEKÁRI PRE HLAVNÚ ETIKU: Táto e-mailová adresa je chránená pred spamovacími robotmi. Na jej zobrazenie potrebujete mať nainštalovaný JavaScript.
Malá pozornosť:
Z dňa 09.05.2021 - Európsky Parlament:
Minulý týždeň poslanci odhlasovali, aby sa s očkovacím listom zaobchádzalo ako s "urgentným postupom". Samotná Európska komisia predtým presadzovala "naliehavý postup", aby bolo možné čo najrýchlejšie vytvoriť záznam o digitálnom očkovaní. Zdá sa, že napriek veľkej kritike chcú orgány EÚ nasledovať izraelský "model". Izrael, ktorý vydal obzvlášť drastické obmedzenia a protikoronové opatrenia a uskutočnil rozsiahlu reklamu na očkovanie, už podľa kritikov vytvoril dvojtriednu spoločnosť zavedením "digitálneho zeleného očkovacieho preukazu". Keďže EÚ chce teraz čo najskôr zaviesť tento "zelený digitálny očkovací preukaz", zdá sa, že obavy z dvojtriednej spoločnosti v EÚ zmizli. Oficiálne sa hovorilo, že chcú "vytvoriť spoločné technické riešenie pre 27 krajín EÚ a prekonať súčasné cestovné obmedzenia". Do očkovacieho preukazu by mali byť zaznamenané koronové testy, prežité koronové infekcie a očkovanie v celej EÚ. QR kód by mal zaručiť pravosť certifikátu. Je pochybné, či sa očkovací list bude "iba" používať na cestovanie v rámci EÚ. Čoskoro by sa mal použiť ako vstupný nástroj do zariadení každodenného života, bez ktorých už normálny život bude ťažko možný. V tejto súvislosti je však pozoruhodná aj štúdia, ktorá bola publikovaná v časopise Lancet. Preto napríklad vo Veľkej Británii nebude stačiť očkovanie ako nástroj na potlačenie šírenia vírusu. Opatrenia by sa museli zachovať, aby sa znížilo rozšírenie. To následne spochybňuje aj osvedčenie o očkovaní podľa prístrojov.
                                                                                                 Oficiálny list od lekárov: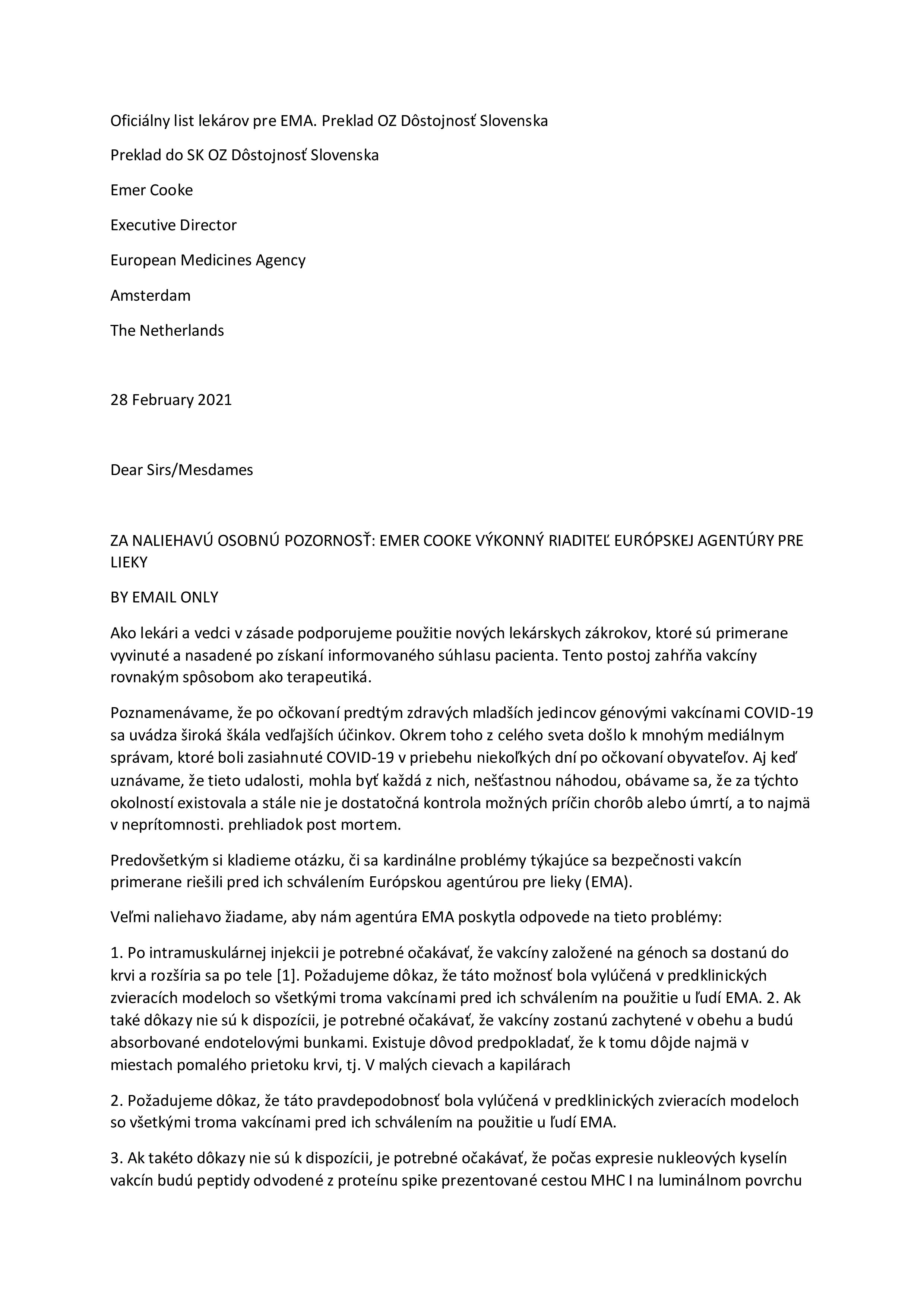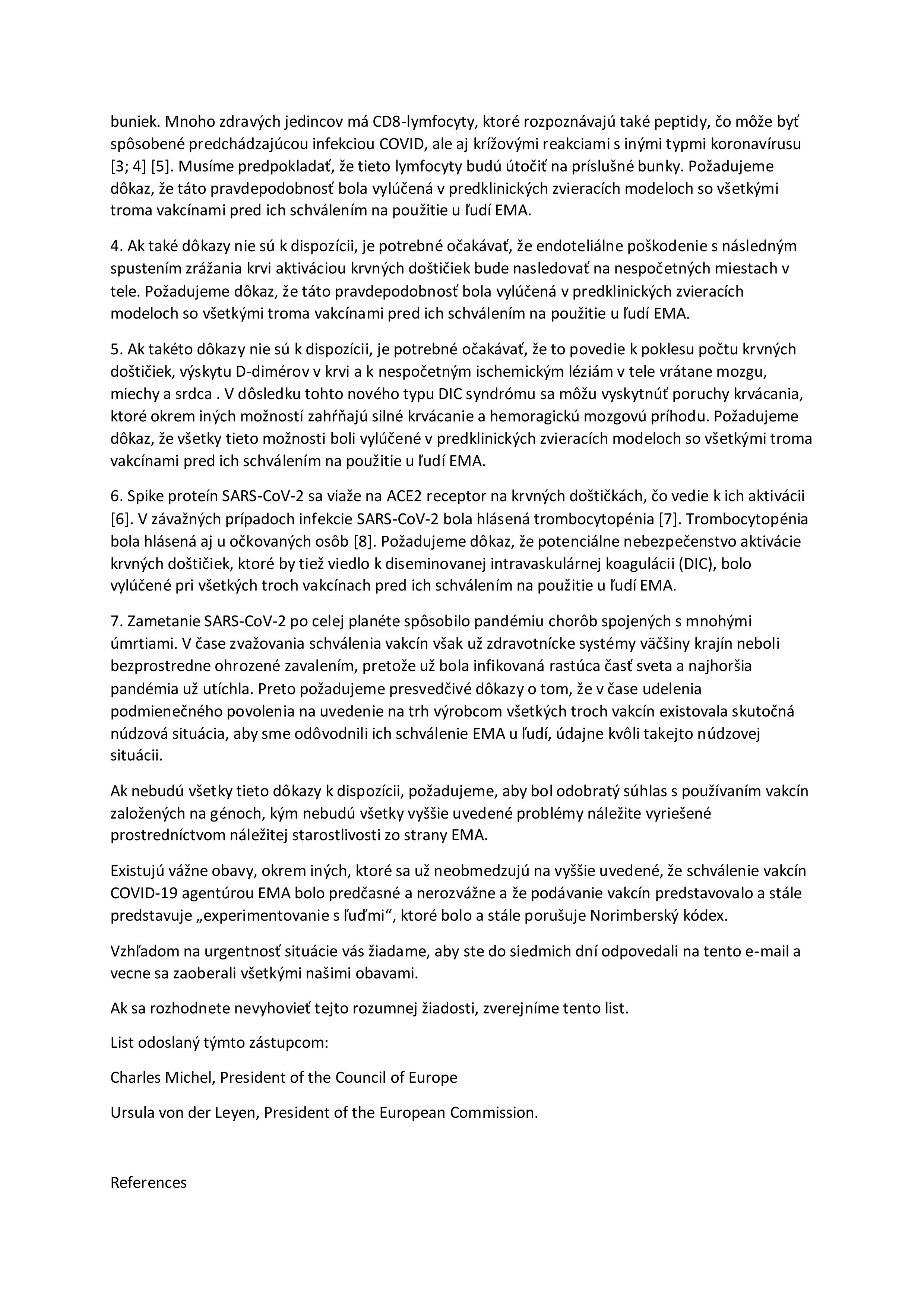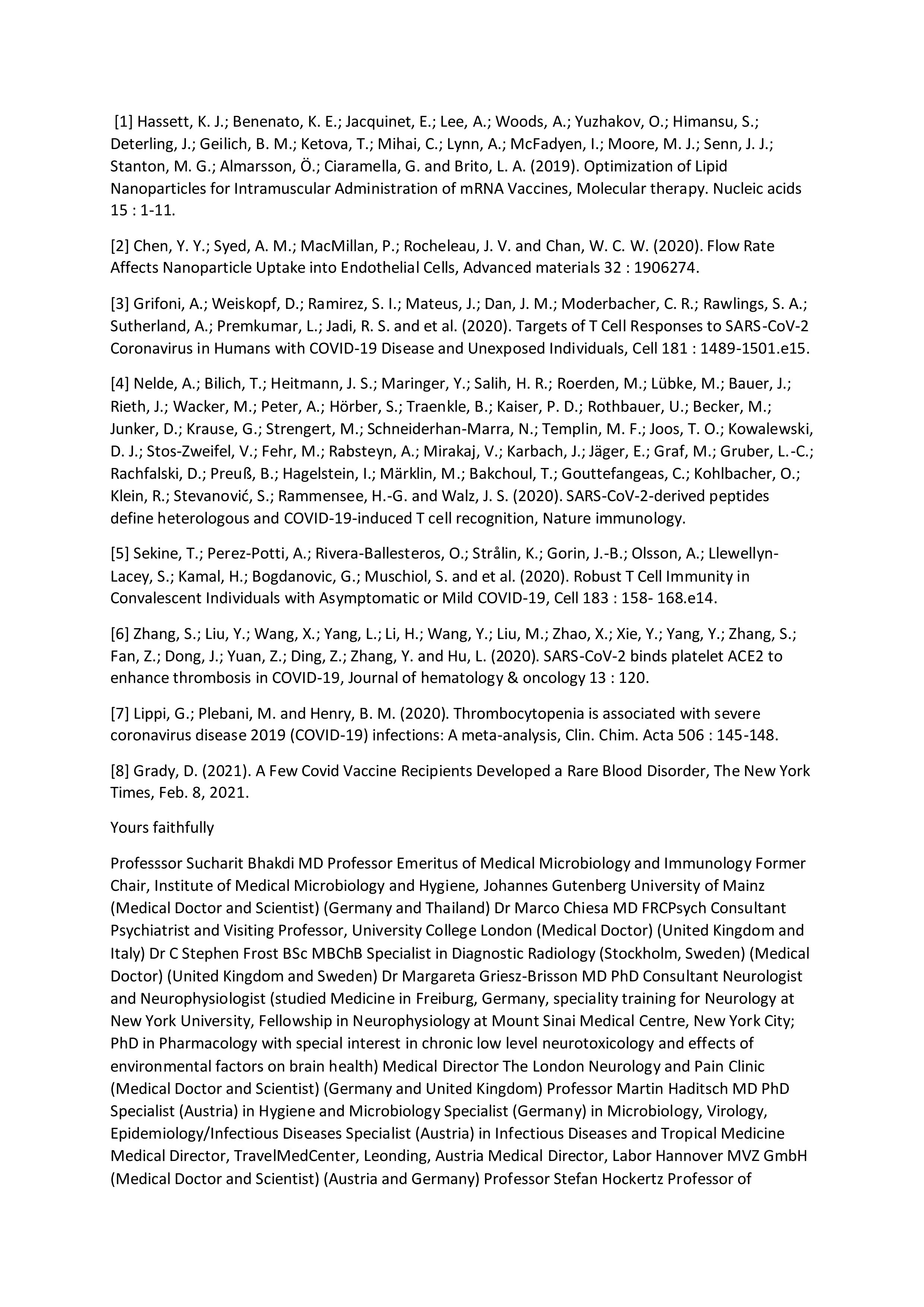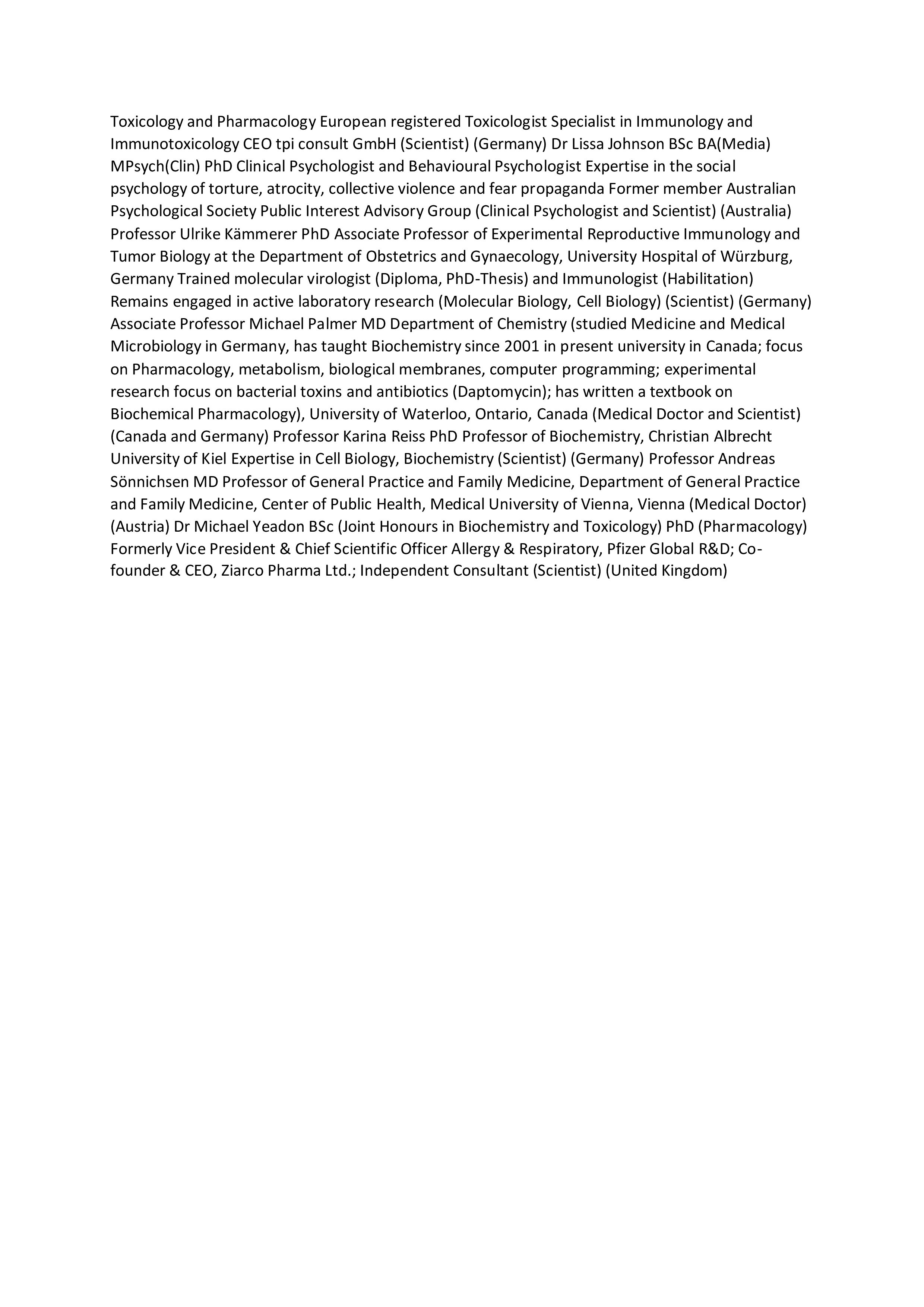 Odpoveď od EMA lekárom: 
                                                                                  Odpoveď lekárov na vyjadrenie od EMA: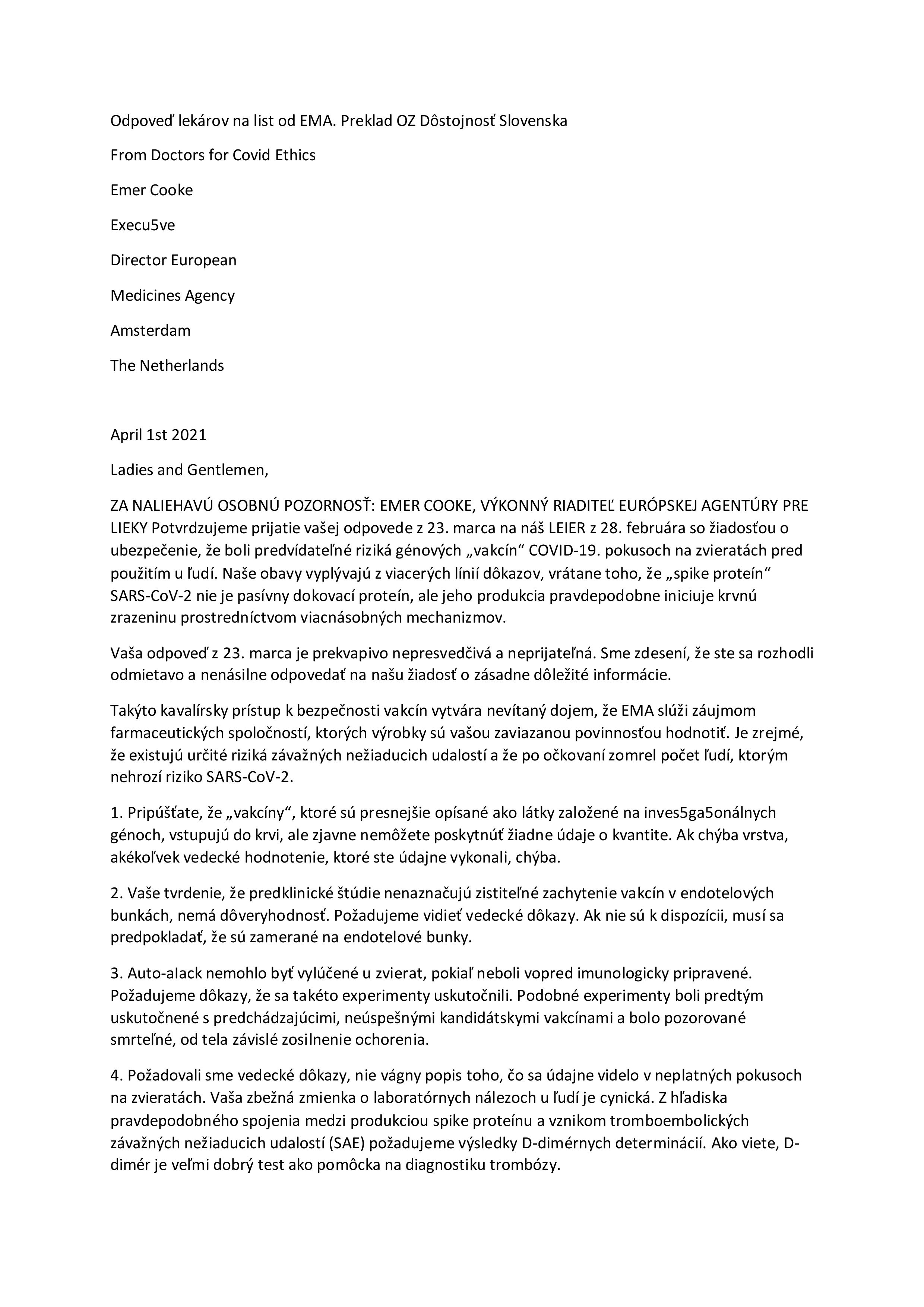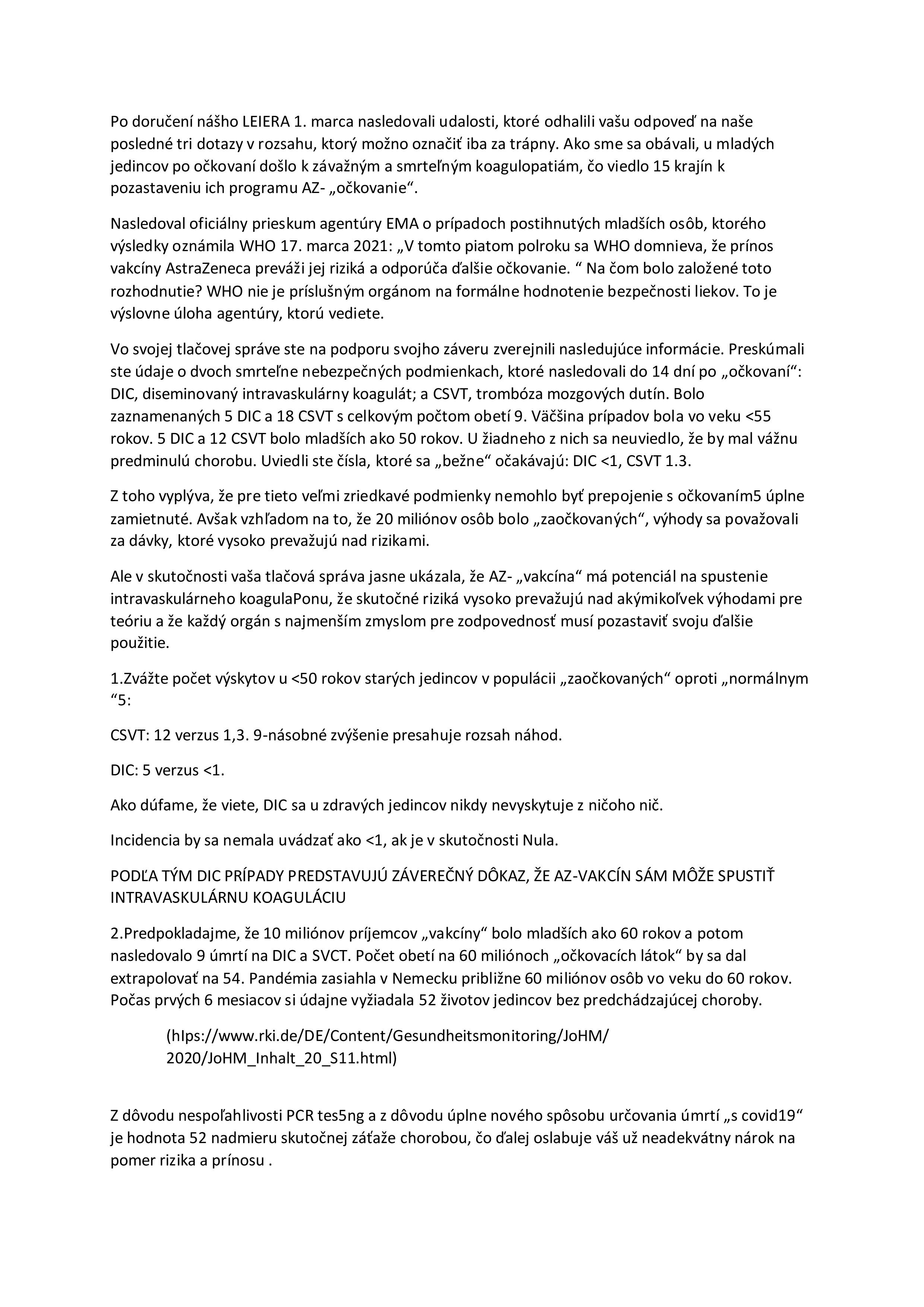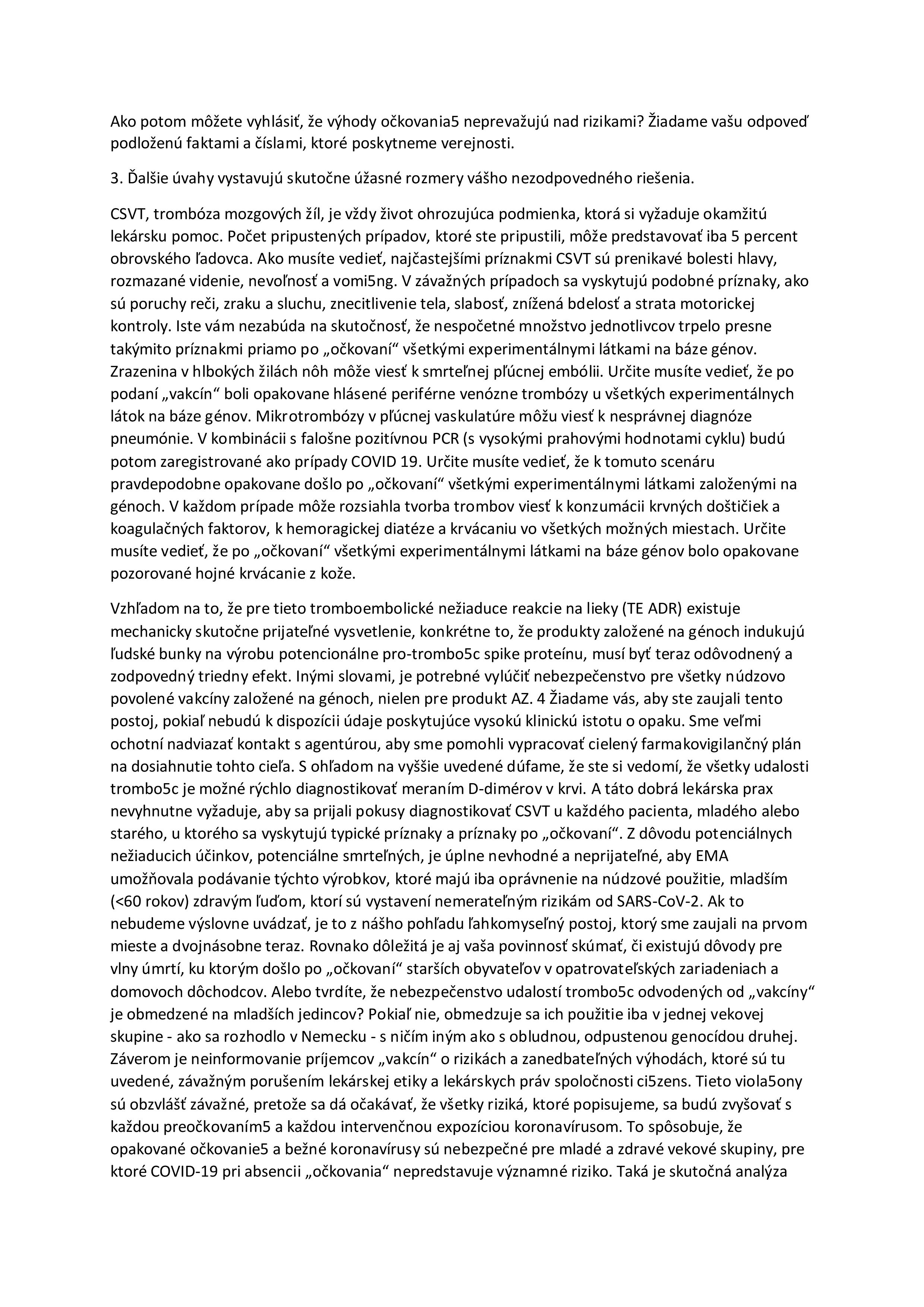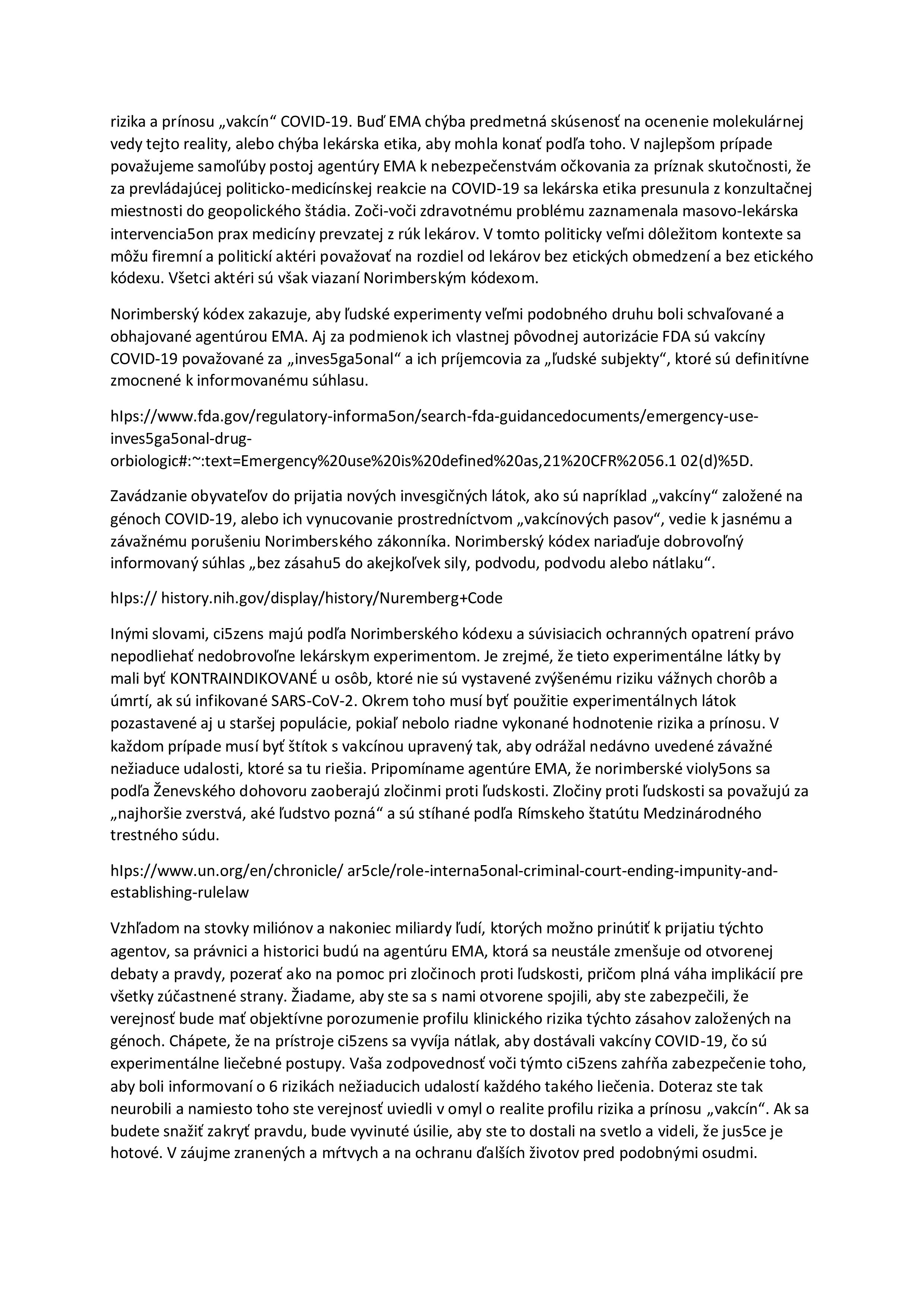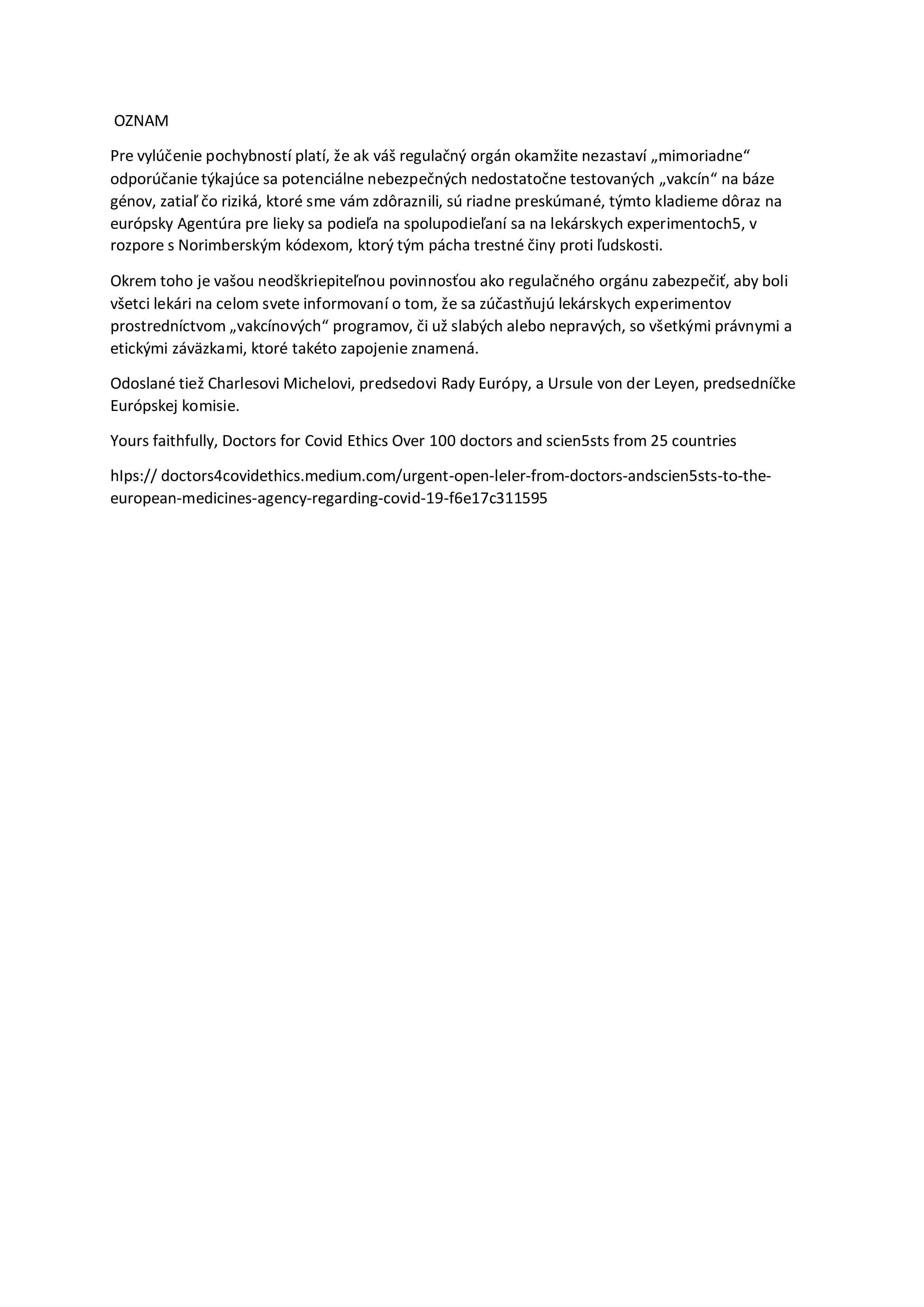 Celkové zhrnutie v liste: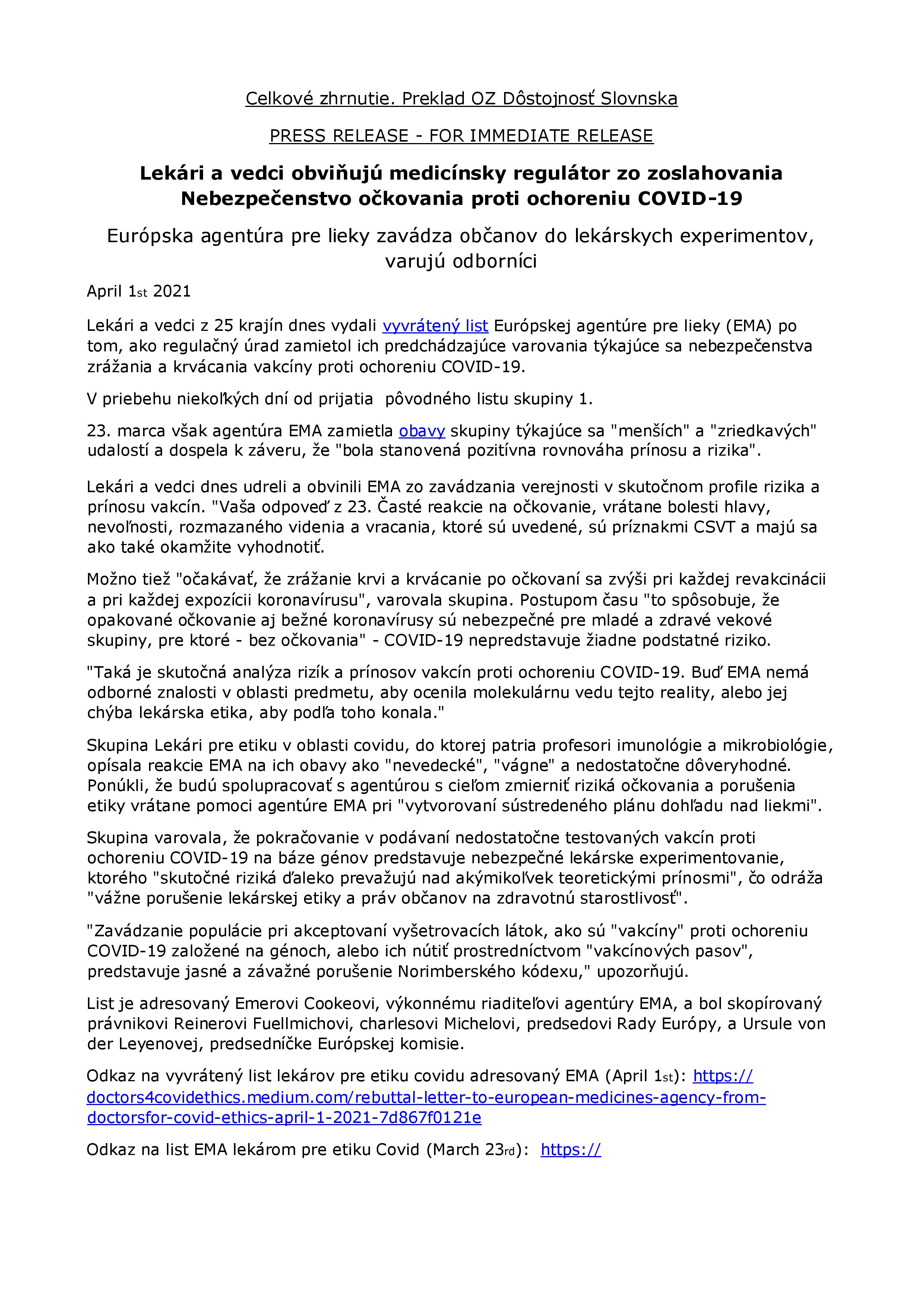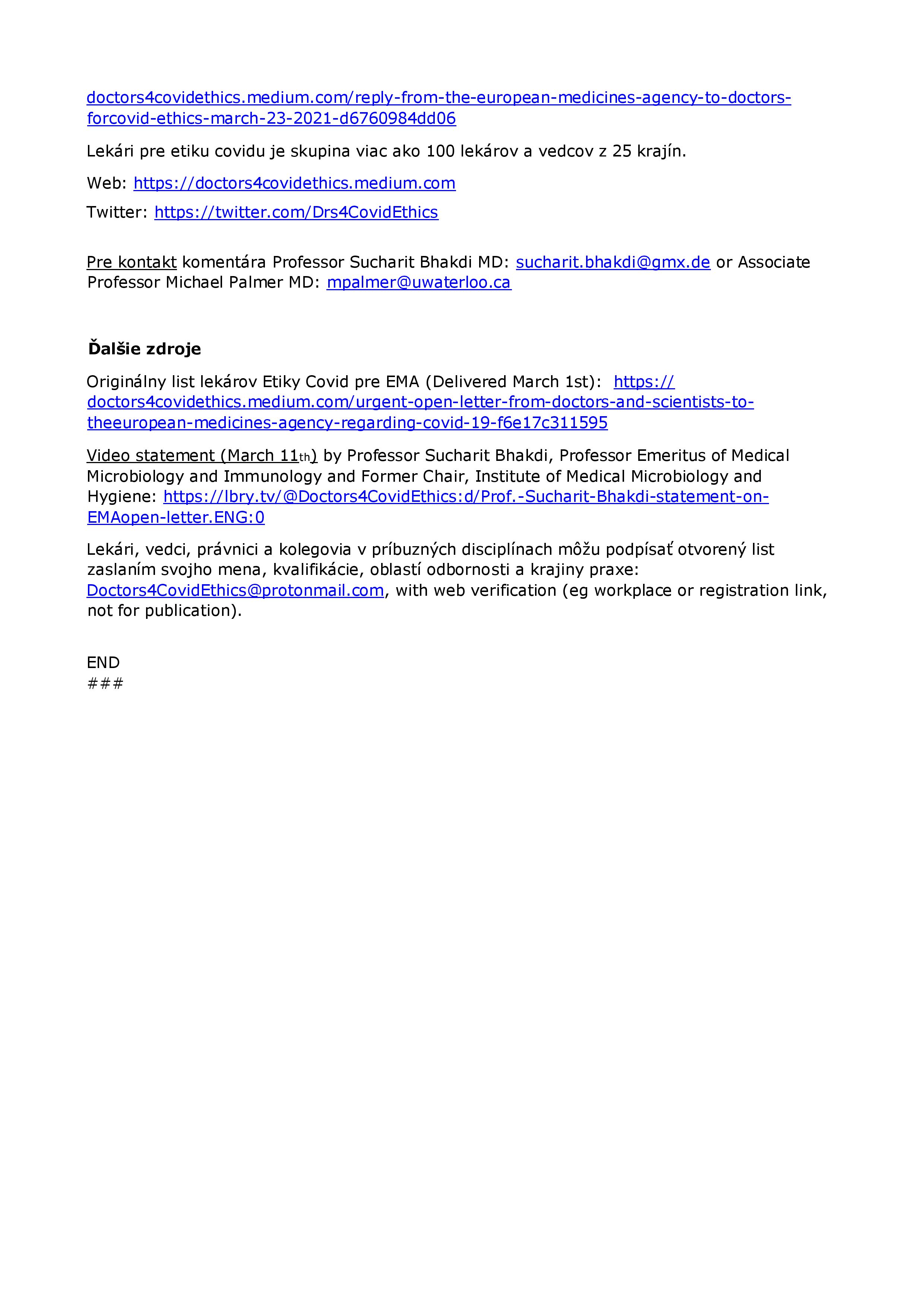 Tu sú mená poslancov, ktorí odpovedali a ktorí neodpovedali: Uhrik a Radačovsky vôbec sa nemienili k tomu vyjadriť!!!!!!!
EU Parliment Members served (xlsx file)
Ďalšia výzva od lekárov poslancom v eú parlamente:
https://dostojneslovensko.eu/blog/blog-o-politike/115-oznamenie-o-zodpovednosti-za-skodu-a-smrt-za-deti-dorucene-vsetkym-poslancom-europskeho-parlamentu
Položili ste si niekedy otázku, prečo je stále viac ľudí chorých, hoci medicína a ochrana životného prostredia stále tvrdia, že je lepšie a lepšie? 
Zamysleli ste sa niekedy nad tým, prečo sú voľby zbytočné? 
Premýšľali ste niekedy nad tým, prečo je všetko otočené hore nohami? 
V jednej knihe a celkom zaujímavej  "Prebudenie začína" sa drzým a srdečným hlasom rozpráva o všetkom, čo ste vždy chceli vedieť, ale nikdy ste sa neodvážili opýtať. 
Táto práca stavia most k traume, do ktorej sme nútení a z ktorej sa môžeme oslobodiť až po prebudení.
Spracoval: ® OZ Dôstojnosť Slovensko v spolupráci s novinármi v zahraničí. Všetky práva vyhradené!!
Potrebujeme vašu pomoc:  Bez vašej pomoci by sme toto nedokázali.
Neziskový sektor: SLSP
Názov účtu: Dôstojnosť Slovenska
SK28 0900 0000 0051 7971 8989
Všetky práva vyhradené OZ Dôstojnosť Slovenska. Zdieľanie dovolené.